Home » Library » Library Profile
VIVEKANANDA LIBRARY
Maharshi Dayanand University came into existence as an autonomous body in 1976 by an Act of the State Legislative Assembly. Though the establishment of this Library coincides with the establishment of the Regional Centre of Panjab University Chandigarh in 1966, the year 1989 is a landmark in its history, as the present library building was officially dedicated to the University community in particular, State in general and the country at large in this year. Vivekananda Library, named after Swami Vivekananda - the illustrious son of the country, has carved a niche for itself in the University firmament. The magnificent library building - a blend of functional structure, elegance and exquisiteness - is centrally located within easy reach of all the Departments/Institutes/Directorates, hostels and residential areas. The building - with a floor area of 1,10,000 sq. ft. - has the capacity to accommodate more than 4 lakh volumes of books and bound journals in its stack areas, Reading Halls with a capacity for 2463 readers, including the 24-hour Reading Halls with a capacity for 1650 readers, 13 Scholars' Rooms, a Committee Room-cum-Videoconferencing Hall, and so on. The Library has five satellite libraries viz., Hotel & Tourism Library, IMSAR Library, Law Library, Math Library and UIET Library with an additional capacity of 428 seats.
LIBRARY COMMITTEE
The Library Committee – the governing body of the University Library System - formulates library policies for the guidance of the University Librarian. This Committee has Vice-Chancellor as its Chairman and University Librarian as its Member-Secretary. Dean, Academic Affairs, Dean of Colleges, all Deans of Faculties, Heads/Directors of Teaching Departments, and Registrar are its ex officio Members. Two Research Scholars are nominated as its Members by the Vice-Chancellor for two academic years. The organogram of the Library is displayed below.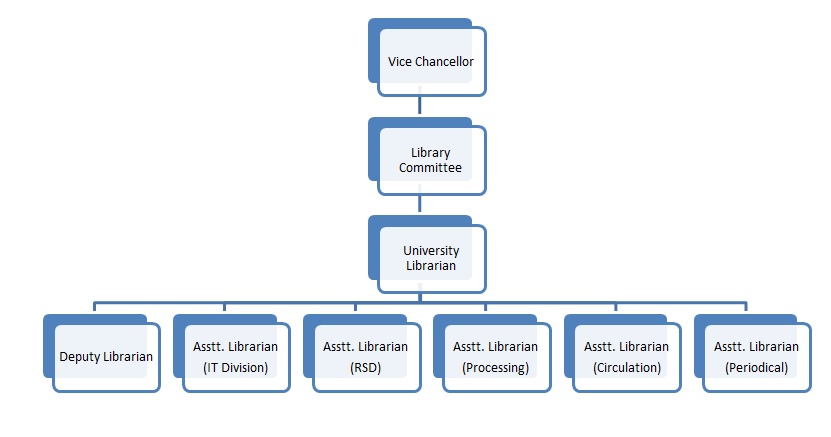 HUMAN RESOURCES
The University Library has well-qualified staff with adequate strength, though many of the sanctioned posts are vacant. The staff position is reflected in the table below:
Staff Position
| | | |
| --- | --- | --- |
| Post | Strength | Remarks |
| University Librarian | 01 | Filled |
| Dy. Librarian | 01 | Vacant |
| Asstt. Librarian | 10 | 1 filled; 9 vacant |
| Information Scientist | 01 | Filled |
| Professional Asstt. (Maintenance) | 1 | Vacant |
| Sr. Library Asstt. | 11 | 11 Filled |
| Jr. Library Asstt. | 04 | Filled |
| Catalogue Typist | 01 | Filled |
| Library Attendants | 26 | 1 Filled; 25 vacant |
| Library Cleaner | 07 | 3 Filled; 4 vacant |
| Assistant. | 02 | Filled |
| Jr. Scale Stenographer | 01 | Filled |
| Clerk/Typist | 08 | 2 Filled; 6 Vacant |
| Peon | 04 | 1 Filled; 3 Vacant |
| Peon-cum-Mali | 01 | Vacant |

Senior library Staff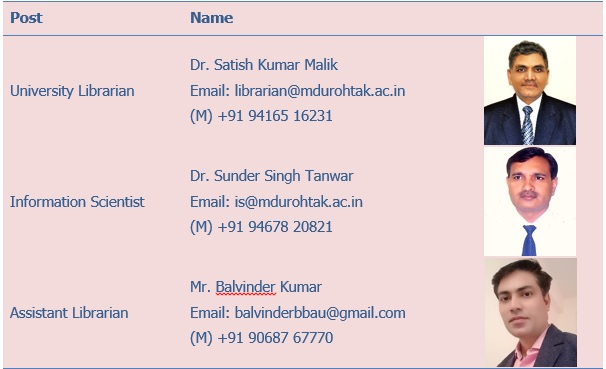 --> Besides, housekeeping, security, maintenance of electrical fittings and public health services of the library has been outsourced.
LEARNING RESOURCES
The University Library possesses a very rich collection of 5,38,569 volumes of print books, e-books, print journals, e-journals, bound volumes of journals and other reading material to cater for the informational and scholarly requirements of its patrons. The details of knowledge resources are as follows:

Knowledge Resources (As on June 30, 2022)


| | |
| --- | --- |
| Category of document | Total |
| Books | 3,92,563 |
| e-Books | 57,024 |
| Print Journals | 328 |
| e-Journals | 11,173 |
| Journals (Bound volumes) | 58550 |
| Theses | 17564 |
| Video tapes/CDs | 1354 |
| Total | 5,38,556 |
Besides, 276 Indian and 52 Foreign Journals are subscribed in print form for 2021-2022. Library provides online access to 57,024 e-books purchased from international publishers; 11,173 e-journals, including 3410 Elsevier's e-journals through the ScienceDirect platform, 310 Emerald e-journals with content coverage as far back as 1898 (Vol.1 Issue 1), 257 Indian e-journals through IndianJournals.com, 34 Sage e-journals, and 7,010 e-journals through e-ShodhSindhu; J-Gate Plus an e-journals' access gateway and database solution provide one-point access to e-journals subscribed by e-ShodhSindhu consortium and index to open access journals; Shodhganga – an Indian ETD Repository as its members; SCOPUS – an Elsevier database of abstracts and citations from 23,028 Science and Social Science Journals and 2,40,774 books published by 5,000 publishers worldwide; Web of Science Core Collection – have broad coverage of 21,858 journals + books and conference proceedings selected from the Sciences, Social Sciences, Arts, and Humanities under the Science Citation Index Expanded (SCI-Expanded), Social Sciences Citation Index (SSCI), and Arts & Humanities Citation Index (A&HCI) etc.; Indian Citation Index – a multidisciplinary research platform covering 1,490 scholarly journals from India; Sage Research Methods; Institute for Studies in Industrial Development (ISID) Database – through eSS; Manupatra – a database which contains Acts, judgements of all High Courts and Supreme Court of India, latest rules and amendments and Case Laws of Supreme Court since 1950 on all subjects of Law; All India Reporter Combo, six CMIE databases viz., Economic Outlook, Industry Outlook, Prowess IQ, States of India, Commodities, and CapEx; MLA International Bibliography; Library & Information Science Source database; Library, Information Science & Technology Abstracts (LISTA); and DELNET IPC (Pharmaceutical Collection). The Vivekananda Library is committed to cater its users best. With this spirit, the library adds authenticated knowledge resources continuously in its collections and encourages its users to visit the library and "MDU eLibrary" regularly.
FINANCIAL RESOURCES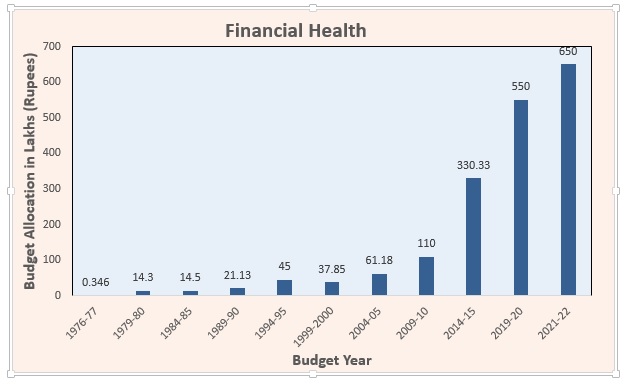 Ever since the establishment of this University in 1976, a sum of approx. Rs.5175.85 lakhs has been spent on the development of learning resources. The funds for collection development are owed to State Govt., UGC, University's own coffers and some other funding agencies.
The University is well set to spend a sum of Rs.650/- lakhs on the addition of new books, subscriptions of print journals and e-Resources during the financial year 2021-2022. Five yearly investment in collection development is reflected in the bar chart.
LIB. USER & PRIVILEGES
LIBRARY PATRONS AND THEIR PRIVILEGES.

Membership in this Library is open to University teachers, non-teaching staff and students. Those who intend to use the library facilities are required to enrol themselves as members of the library by filling out the prescribed form. The form must carry the recommendations of the respective Head of the Department/Director/Officer of the University. The teachers can borrow 15 books, research scholars 10, M.Phil. 8, PG students 6, Officers and other employees/U.G./Diploma/Certificate Couse Students 4, and Special Members 2 books each. Serving Teachers of the affiliated aided Colleges, serving faculty/scientists of other Universities, retired Teachers/Officers and other employees of MDU, aspirant scholars for admission to Ph.D. in MDU duly recommended by HOD/University Librarian, and Class I Gazetted Officers of the Govt. of Haryana/Govt. of India can also be enrolled as Members of the Library subject to the surety of a serving University employee, refundable Library Security of Rs.2500/-, and payment of Rs.250/- as annual Library Fee with the permission of the University Librarian.
LIBRARY SERVICES
Reference Service implies the provision of human beings as canvassing agents for learning resources. It truly reveals the positive outcome of the library's ethics and is, in fact, a barometer of the library's reputation amongst its patrons. The Reference Desk, headed by a senior library professional, is located on the ground floor at the central place. The Reference Librarian, assisted by other staff, guides/helps the library users in the location and selection of documents/ information, in the use of OPAC, and procure information from other libraries, if the need be. The freshers are offered orientation programmes to apprise them of the library's organization and services.

The Library offers unmatched Reading Facilities. The Reading Halls, with a seating capacity of 813 readers, are located on all three floors adjacent to the stack areas to maintain the proximity of library users to the books. In addition, there is an exquisitely renovated Reading Facility with a seating capacity of 1650 readers that opens round-the-clock. A separate air-conditioned Reading Hall with 85 seats is distinctively reserved for Research Scholars. The Internet Facility was set up in 1999 with a few nodes, but now 105 Internet nodes and 12 Wi-Fi Access points are available in the Library. These nodes are located in separate areas of the library like the Researcher's Reading Hall, Internet Lab and all other reading areas of the library. This service is offered to bonafide library patrons free of cost.

Online Catalogue (Online Public Access Catalogue) represents the library's collection of learning resources. The Catalogue is accessible to all through PCs, Laptops, and mobile devices within and outside the MDU Campus

The computerization of the entire range of Circulation Functions - use of barcoded University ID-cum-Library Cards for check-out and check-in of reading material, calculation of overdue charges, reservation of books, the printing of reminders for outstanding books, status checking of a book whether it is checked-out or is available on the shelf, user accounts information, statistical data, and all other circulation-related functions, are in the offing.

As of now, all the library operations (Acquisition of books, subscription of print journals, cataloguing of learning resources, display of new additions, barcoding of books, circulation of books and other reading material, linkage online Catalogue to the University website etc.) have been automated. The application of RFID technology for self-check-out check-in with security gates has been implemented, and the CCTV system for library security is in operation.
I.T. DIVISION – AN E-RESOURCE CENTRE:
MDU eLibrary: I.T. Division of the library plays a fundamental role in enhancing the learning experience by providing all types of knowledge materials to the students, research scholars, faculty and staff who need to improve their knowledge. All subscribed e-books, e-journals, conference proceedings, databases, Ph.D. theses, Old question papers, expert talks, video lectures and news headlines are made available through Remote Access to the users' desktops, laptops and mobile phones through "MDU eLibrary" portal and "MDU eLibrary Mobile App" for iOS and Android Mobile phones. The library members can access all subscribed e-resources 24x7 from their departments, hostels, homes, and even on the go. The federated search (single-window search) is enabled on the "MDU eLibrary" to save users' time.

Grammarly: Grammarly is a writing assistant that detects possible manuscript errors and enhances writing skills. All research scholars and faculty members use this facility in their research writings.

Similarity Check Software: Turnitin and Ouriginal (previously known as Urkund) – similarity check software have been subscribed for maintaining academic integrity and prevention of plagiarism in research publications.

Computer Lab is equipped with the latest computers and high-speed Internet to access library e-resources. A hoard of ICT hardware and software - 4 servers, 132 PCs, 4 laptops, 7 Information Kiosks, 1 Book Drop with touch screen, 4 scanners, 23 Barcode Readers, 16 UPSs, 37 printers, 12 Network Switches, 20 Head Phones etc. – are available in the Library for use by the library users and library staff.
LIBRARY MODERNISATION
Research and Planning Division - set up in Oct. 2009 to grapple with and solve the existing library problems, prepare library modernization plans, and implement the same – gave impetus to its following modernization programmes at a cost of Rs. 50 lacs to actuate the dreams its management cherished :
Strengthening of Internet services with the addition of 30 PCs.
Computerization of Library Catalogue.
Automation of check-out check-in functions.
Barcoding of collection.
Data entry of entire collection.
Replacement of traditional multiple library cards with a single barcoded Library Card.
Automation of Stock Verification.
Replacement of paper correspondence with e-correspondence.
Creation of Digital Library.
Establishment of Multimedia Library.